European Journal of Jewish Studies
Edited by Giuseppe Veltri (Universität Hamburg) and Diana Matut (University of Halle-Wittenberg)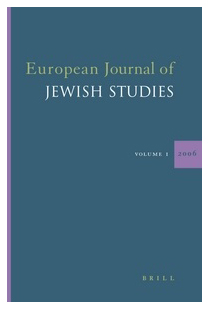 The European Journal of Jewish Studies (EJJS) is the Journal of the European Association for Jewish Studies (EAJS). Its main purpose is to publish high-quality research articles, essays and shorter contributions on all aspects of Jewish Studies. Submissions are all double blind peer-reviewed. Additionally, EJJS seeks to inform its readers on current developments in Jewish Studies: it carries comprehensive review-essays on specific topics, trends and debated questions, as well as regular book-reviews. A further section carries reports on conferences, symposia, and descriptions of research projects in every area of Jewish Studies.
The European Association for Jewish Studies (EAJS), founded in 1981, is a professional association for scholars, teachers, and researchers in Jewish Studies at European institutions of Higher Education and Research, with the principal aim of advancing Jewish Studies in Europe. The EAJS aims to promote, support, and co-ordinate research and teaching of Jewish Studies at university level in Europe. Its activities include a quadrennial international Congress, held in various locations in Europe; an annual Colloquium; a website (www.eurojewishstudies.org) with online resources including a Directory of Jewish Studies in Europe, and a Funders Database; a Funding Information and Advisory Service (available to EAJS members); and publication of the European Journal of Jewish Studies.
The Executive Committee of the EAJS is currently composed as follows:
Prof. Edward Dąbrowa (Cracow), President
Dr. François Guesnet (London), Secretary
Dr. Michael Galas (Cracow), Treasurer
Dr. Javier Castaño (Madrid)
Prof. Martin Goodman (Oxford)
Prof. Elisabeth Hollender (Frankfurt)
Dr. Andreas Lehnardt (Mainz)
Prof. Judith Olszowy-Schlanger (Paris)
Dr. Pavel Sládek (Prague)
The administrative office of the EAJS is run by Dr. Garth Gilmour, and located at 109 Clarendon Institute Building, Walton Street, Oxford OX1 2HG, United Kingdom, tel: +44-1865-610433, email admin"AT"eurojewishstudies.org. Membership is open to scholars and students in Jewish Studies from both inside and outside Europe; to apply for membership, please visit the website or contact Dr Gilmour. Please send any books for reviews to the following address: European Journal of Jewish Studies, c/o Prof. Dr. Giuseppe Veltri, Institute for Jewish Philosophy and Religion, University of Hamburg, Rothenbaumchaussee 34, 20148 Hamburg, Germany. Please note that any unsolicited review copies will not be guranteed review nor will they be returned to the sender.
Members of the EAJS may subscribe to the online-only version of EJJS at a special reduced rate. EAJS members should refer to the Members Area of the EAJS website for details of how to subscribe at the members' rate.
For more information about the European Association for Jewish Studies, please visit www.eurojewishstudies.org
For more information about the Journal, please click here.